What Makes Our Campground Special?
Grand View Campground & RV Park is a 56-acre property located in the beautiful foothills of the Blue Ridge Mountains on Highway 226 in Casar, North Carolina. The campground is adjacent to the gorgeous First Broad River. One of the First Broad's many lovely tributaries, Mountain Creek, also peacefully crosses the property.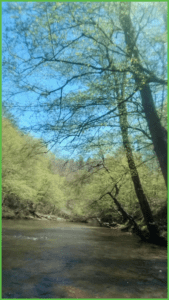 In addition to providing an escape from the rat race, our goal is to extend a family-friendly atmosphere where people of all ages can enjoy themselves year round. We currently offer a fairly extensive list of amenities and activities, and we plan to lengthen that list as we grow. Our hope is that you'll be right there with us every step of the way.
Another popular drawing card is our easy access to the First Broad River for fishing, wading, canoeing, kayaking and tubing. Kids love to play in Mountain Creek too. Both the river and the creek are wonderful for those of us who simply love observing or relaxing in nature. Additionally, we offer tubing rentals. Each rental includes use of a tube plus transportation to the starting point of a 1.25-hour trip down First Broad River back to the campground.
Throughout the year, we hold special events at Grand View. Those include live musical entertainment, holiday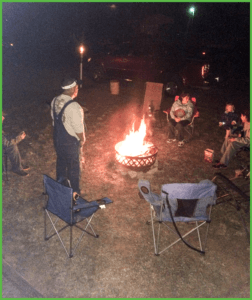 celebrations and more. If you sign up on our website and follow our blog, you'll be one of the first to know when the next special event gets scheduled. We post our special events on Facebook too.
We offer campsites for RVs, campers and tents. Plus, we rent creekside tiny cabins and campers with campsites. Many of our sites are full hook-up (water, power, septic), and others are basic. Most of our sites have picnic tables and grills. There's a camping store on the premises that sells shaved ice, ice cream, snacks, non-alcoholic drinks and miscellaneous camping supplies. Adjacent to the camping store are bath houses, restrooms and a laundry room.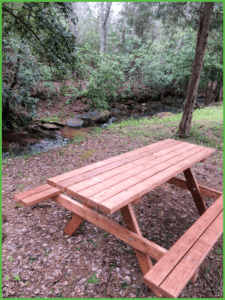 We encourage our guests to enjoy other activities that we offer on site such as basketball, volleyball, horseshoes, hiking, biking, arts and crafts, bingo, swinging, seesawing and more. And there's plenty of room for a game of softball, soccer, flag football, dodgeball, tag, etc. Or simply relax in one of the porch rocking chairs.
We love animals. Cats and dogs are welcome at Grand View provided they are kept on leashes and don't cause problems for our other guests.
Grand View Campground & RV Park is far enough away from the hustle 'n bustle that you can easily relax, sit back, and enjoy the serenity and beauty of nature. Yet it's close enough to many towns, cities and other nearby attractions that you can take a short day trip and enjoy most anything you want to enjoy: hiking, boating, biking, swimming, live music, movies, museums, theme park, history, science, racing, zoos, good food, shopping and more. And that's in addition to all the many fun things we have for you to do right here at Grand View Campground & RV Park!