What Does It Cost to Stay and Play?
Here is a basic overview of what some items cost at Grand View Campground & RV Park. Taxes will be added to these prices where applicable.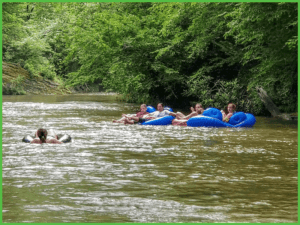 Many of the amenities and activities we offer are completely free to campers at Grand View. We plan to add more free items as we go along too. We try our best to offer as many items and as much variety as we can while still keeping it affordable enough for our guests to visit us often.
Comments or questions? Click Here.
Or call today to make your reservation to camp with us: (704) 472-3100 or (704) 472-4666 or (704) 482-4888.
| ITEM | UNIT | COST |
| --- | --- | --- |
| Camper/RV Site Up Top – Full Hook Up | Night | $45 |
| Camper/RV Site Up Top – Full Hook Up | Month | Utilities cost + $375 |
| Camper/RV Site On Creek – Water & Power | Night | $45 |
| Camper/RV Site On Creek – Water & Power | Month | Utilities cost + $375 |
| Camper with Campsite | Night | $85 to $135 |
| Tent Site – Basic no water/power | Night | $25 |
| Tent Site – Water & Power | Night | $35 |
| Tiny Cabin, Sleeps 2 | 2 Nights | $130 |
| Tiny Cabin, Sleeps 2, w/Hot Tub | 2 Nights | $170 |
| Tiny Cabin, Sleeps 4 w/Hot Tub and Toilet | 2 Nights | $250 |
| Tiny Cabin, Sleeps 4, w/Hot Tub, Toilet and Sink | 2 Nights | $260 |
| Tubing – All Ages | Trip | $12 |
| Splash Pad | Day | $5 |
| Playground, Picnic Area, River | Day | $10 |
| Shaved Ice | Cup | $1 & $3 |
| Other Snacks, Drinks and Ice Cream | Varies | $1 to $4 |
| Assorted Camping Supplies | Varies | Varies |
| Party Package – covered picnic shed, river, playground | 2 Hours | $200 |
| WiFi – available at office area | FREE | FREE |