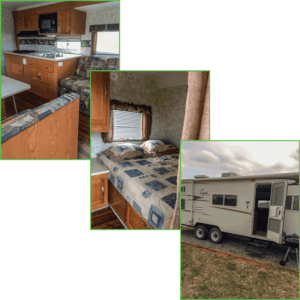 Some folks like to pitch a tent at Grand View. Others prefer to bring their own camper or drive their own RV. For those who want to simplify their camping experience a little more, we offer two types of lodging: 1) Campers on Campsites and 2) Tiny Cabins.
Pricing for both is located here.
Campers on Full Hook-Up Campsites
A well equipped camper is a comfortable place to spend your time away from home. Our campers are located on campsites with water, power and septic service. Each campsite has access to a picnic table and a grill too.
Tiny Cabins
Fall asleep to the soothing sound of running water in one of our creekside tiny cabins.
These cabins sleep 2 or sleep 4. Some have outdoor hot tubs. All have electricity and are equipped with a microwave and a mini refrigerator. Running water and bathroom facilities are available at the the bath houses. Bedding is provided.
Each tiny cabin has a patio where you will find a fire pit, a grill and rocking chairs. That's also where you will find the hot tub if you rented a tiny cabin that has one.
Choose the lodging that best suits your needs. Bring your own, or rent a camper or tiny cabin from us.